Services
We treat and prevent injuries that keep you from reaching your full potential
Massage Therapy is an effective tool in treating soft tissue injuries, overuse injuries, and chronic pain.
By using different massage techniques, the therapist can help you recover from injury, or just feel more relaxed. Below is some general information about massage therapy. If you have any further questions about how you may benefit from it, please do not hesitate to contact us.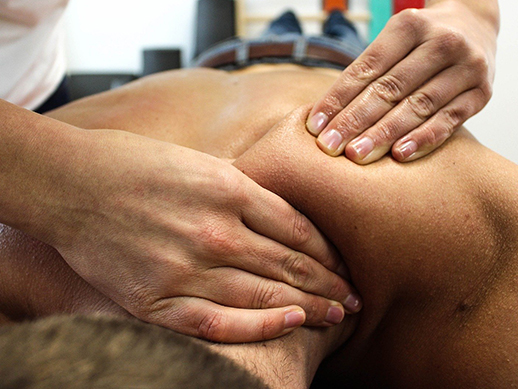 Types of massage include: therapeutic, relaxation, sports massage, and deep tissue, all of which are done at varying depths and speed. The treatment may also include hydrotherapy (ice or heat), remedial exercise, such as stretching and strengthening, and electrical modalities, if the therapist is qualified.
Registered massage therapists are able to perform acupuncture, as long as they meet the standards set out by the regulating body in the province. These treatments are billed as massage therapy.
Massage therapy is a two year program at accredited institutions across the province. Massage is a regulated health profession in Ontario and is controlled by the College of Massage Therapists of Ontario.
Massage Therapists are required to complete a certification exam, consisting of written, oral and practical portions. A Registered Massage Therapist must provide annual documentation of on-going professional development to maintain their status with their college.
Some of the conditions which may receive relief from massage therapy are:
Low back pain, Whiplash, Muscles strains, Migraines and headaches, Arthritis, Sports injuries, Stress, Repetitive strain injuries, Postural related stiffness and discomfort, Surgery (hip and knee replacement, fracture repair).
If you are in the Burlington, Oakville, Hamilton and surrounding areas and are in need of Massage Therapy, contact Burlington Sports Therapy today.
Most insurance companies require a doctor's note for you to be reimbursed through your benefit plan.
Massage therapy can be helpful for people of all ages: infants, teens, seniors, and all ages in between.
Some of the benefits include: decreased muscle pain and spasm, increased circulation, Increased range of motion, decreased adhesions and general relaxation. If you live in the Burlington, Oakville, Hamilton and surrounding areas and would like more information or would like to book an appointment with one of our Registered Massage Therapists, please call 905-220-7858, or e-mail us at info@burlingtonsportstherapy.com
If you are in the Burlington, Oakville, Hamilton and surrounding areas and are in need of Massage Therapy, contact Burlington Sports Therapy today.
A lot of people see massage as a relaxation treatment, but it is also therapy and can be very beneficial [...]
It seems that the longer I'm in practise, the more I appreciate the negative impact prolonged sitting can have on [...]
Last but not least, we're very excited to announce Josie Rocnik to the team!  As many of you already know, [...]
Everything about Burlington Sports Therapy is worth going for. I had the opportunity to attend at the clinic for two separate injuries and am grateful for their expertise. Dr. Kevin McIntyre is punctual, kind, casual and amazingly professional. He has a wealth of knowledge, takes the time to explain all of his findings to you and is also humble enough to take a step back where he feels additional tests (X-rays/bloodwork) are necessary or to have other professionals in the clinic work with you. Whatever works best for "you" and your injury is what this team is willing to make happen. Joyce (at the front desk) is amazing and will do whatever she can to help you get in for appts around your schedule. Thanks Kevin and team!!!!
Let us help you reach your
full potential
Contact us today to book an appointment